Contact Us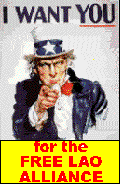 If you have any comments, questions, or suggestions, do not hesitate to contact us.


FREE LAO ALLIANCE
P.O. Box 1954
c/o LaneXang Internet Cafe
Luang Prabang Rd.
Vientiane, LAOS
PUBLICATION POLICY

All articles submitted for publication is subject to editorial review by the FREE LAO ALLIANCE. The subject matter of the writing should address the political, economic and social issues of, relate to or effecting Lao.
We reserve the rights to refuse publication of any articles we deem nonessential and detrimental to the unity and reconstruction of Lao.